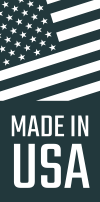 Bariatric Sized Body Bags
Choose from our wide selection of strong, durable bariatric-sized body bags. Body Bag Man offers jumbo-sized body bags that are specially designed to fit most bariatric and large-sized cadavers. We specially manufacture our bags so they're as safe as possible for handlers. Our bariatric bags are crematory safe, strong, and tearproof. We ship our 54-125 bag rolls everywhere in the nation, including Canada and Mexico.
If bariatric-sized body bags aren't ideal for your situation, take a look at our child sizes and adult sizes. If you're looking for a unique size that doesn't fit into any of these categories, we also offer custom body bags - contact us to order. Order specially sized body bags that work best for individual circumstances. With our custom-sized body bag offering, you will be able to specify the exact size and color you need your bags to be.
Our Body Bags Are Perfect For: